On this week's edition of "Issues & Audibles", Andy and I discussed the three big Congressional races in Northern Virginia this year. There are some good potential Republican candidates in the tough, open 8th District (Jim Moran announced his retirement this week), and Barbara Comstock is picking up important endorsements in the open 10th. Also, Suzanne Scholte – a strong, recognized, energetic leader for promoting freedom abroad and here – is moving forward to serve the people in the 11th Congressional District.
We also discussed two proposals in the General Assembly: one would legalize real fireworks here in Virginia – which I favor for fun, jobs and revenues; and a nanny bill, which thankfully was defeated, would have made seatbelt enforcement a primary offense. Finally, I don't think any of Governor McAuliffe's proposed gun restrictions will get much traction in the General Assembly, but it's important that we citizens let our elected representatives know what we think about these and other issues.
Heading into Championship Weekend, having gone 4-0 last week, I'm in the lead with 56, Ann is in a close second at 54 and Andy has 48 46. Here are our picks for this weekend's great conference championship games.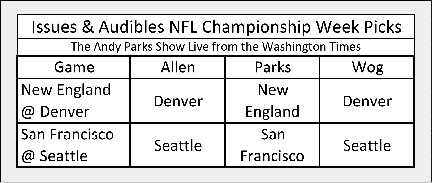 Tune in on Thursday at 11:44 am to 1260-AM in the D.C. area, or at Washington Times Radio, to hear "Issues & Audibles w/ George Allen" on Andy Parks Live from the Washington Times. Click here to hear this week's edition.