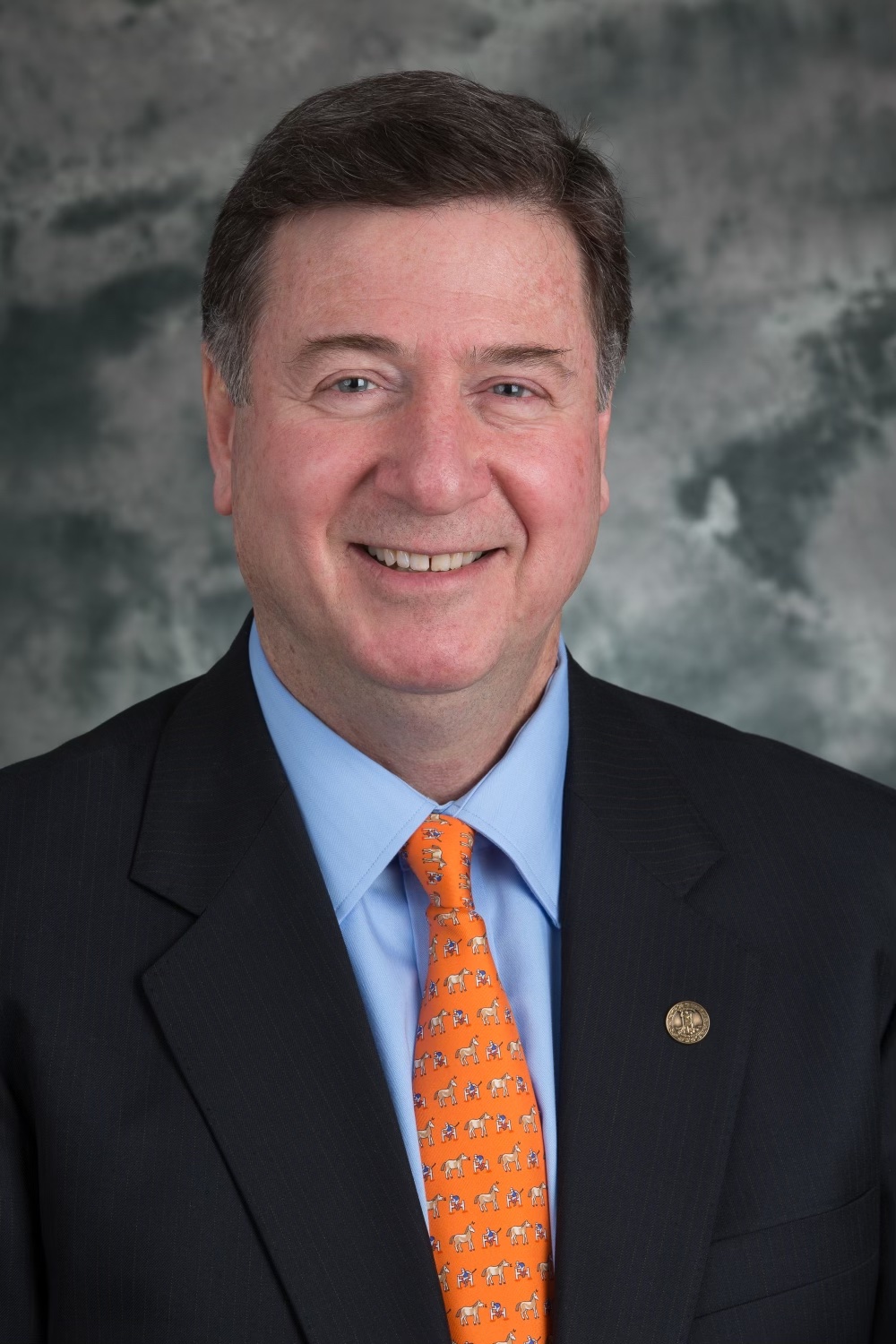 At the conclusion of his term as Governor of Virginia, George Allen viewed with satisfaction the monumental reforms his administration achieved that made Virginia a national model in economic development, public safety, education accountability, and welfare reform. The Washington Post called Allen "one of the most influential governors in recent Virginia history". The Richmond Times-Dispatch recently praised Allen's campaign "among the most policy-driven campaigns in gubernatorial history."
Keeping the promises he made to Virginians, and working with a Democratic-controlled General Assembly, Allen successfully cut taxes by more than $600 million; instituted high academic Standards of Learning and School Performance Report Cards; made neighborhoods safer with the abolition of parole; initiated historic, pro-work welfare reforms; enacted the nation's first Public-Private Transportation funding system; repealed or amended 71% of all regulations; reduced the size of government with greater efficiency and accountability; and grew the economy – making sure the world knew "Virginia is Open for Business". With added revenues, Allen was able to freeze tuition rates at universities and community colleges.
Allen's administration recruited over $13 billion in new investments and created more than 300,000 net new private sector jobs. When Allen was sworn in as Governor in 1994, coal and cigarettes were Virginia's top exports; after four years of Allen's tireless dedication to economic-development, semiconductor chips became Virginia's top export, leading U.S. News and World Report to dub Virginia the "Silicon Dominion".
In September 1994, Allen's promise to abolish parole gained passage for all felony offenses committed on or after 1/1/95. This made Virginia a safer place to live, work and raise a family by guaranteeing convicted criminals served at least 85% of their sentence, known as truth-in-sentencing, and increased the time served by violent criminals by at least 100%, and by 300-500% for repeat violent offenders.
In March 1995, with bipartisan support, Allen signed his statewide welfare reform bill and made Virginia a leader in the national welfare reform initiative. Virginia taxpayers saved $57.6 million alone during the first two years of reform. From March 1995 to November 1997, the welfare caseload (AFDC/TANF) declined by 36%. By the end of Allen's term as Governor, Virginia's welfare work program, known as the Virginia Initiative for Employment not Welfare (VIEW), had a 150% increase in the number of welfare recipients gaining employment than under the previous federal JOBS work program.
With the help of a highly diverse commission of over 5,000 teachers, parents, principals, business people and legislators from both parties, Allen was able to get his more rigorous Standards of Learning (SOL) adopted in June 1995. The American Federation of Teachers (AFT) recognized these new Standards of Learning as "exemplary and worthy of a close look by other states" for their "clarity, detail, content and precision."
*Elected to the U.S. Senate in 2000, Senator Allen advocated for policies to make America a leader in innovation and technology. He was Chairman of the Senate High Tech Task Force and created the Competitiveness Caucus. Allen founded the Nanotechnology Caucus with Senator Ron Wyden (D-OR), with whom he also co-sponsored the 21st Century Nanotechnology Research & Development Act in 2003 and the Internet Tax Freedom Act in 2004. Sen. Allen Sponsored the Minority Serving Institution Digital And Wireless Technology Opportunity Act Of 2005 to support HBCU, HSI and Tribal colleges.  Fulfilling a key campaign promise, Sen. Allen introduced a $1,000 per-child Education Opportunity Tax Credit in 2001, a modified version of which was passed later that year.
Allen was a member of the following committees: Energy and Natural Resources; Commerce, Science and Transportation; Foreign Relations (Chairman of the European Affairs Subcommittee); and Small Business and Entrepreneurship. Allen served in Senate Republican Leadership as Chairman of the National Republican Senatorial Committee for the 2004 election cycle.
*Born to George H. Allen, a Hall of Fame football coach, and Henrietta L. Allen, a Tunisian-born survivor of the Nazi occupation of North Africa, George Allen started his life in Southern California and Deerfield Illinois, before attending the University of Virginia. Allen holds a B.A. degree "with distinction" in History and a law degree from UVA, and played on UVA's football and rugby teams. Allen was named All-ACC Academic Team, Quarterback in 1972. After graduation from law school, Allen worked in Abingdon, Virginia as a law clerk for U.S. District Judge Glen Williams in the Western District of Virginia and then started his own law practice in Charlottesville.
*A self-described "Common Sense Jeffersonian Conservative," Allen had the distinction of holding Thomas Jefferson's seat in the Virginia House of Delegates from 1983 to 1991 and briefly represented Virginia's 7th Congressional District in the U.S. House of Representatives from 1991 to 1992, before a partisan re-districting maneuver combined his district with that of a more senior Republican Member of the House.
*In 2007, Allen founded George Allen Strategies,LLC which provides companies and individuals with insightful and effective counsel, consulting and strategic advice on a range of issues including energy, technology, and business development.
Allen served as Chairman of the Manufacturing Competitiveness Initiative for the National Association of Manufacturers from 2014 to 2021.
Allen serves on the board of directors of several companies, including Armada-Hoffler (AHH-NYSE) and previously as a director on Nano Risk Assurance Intl, Material Intellect, Inc.(private Houston, Texas), Lee Technologies (private Fairfax, VA, until acquired by Schneider Electric)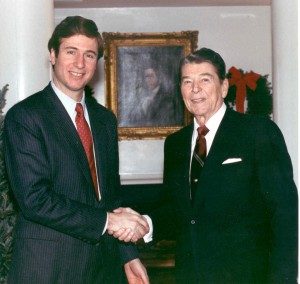 George Allen is the Reagan Ranch Presidential Scholar for the Young America's Foundation informing young people about the merits of free people, free enterprise and personal responsibility. Gov. Allen also serves on the Reagan Ranch Board of Governors preserving Ronald Reagan's beloved Rancho del Cielo and Western White House. (Allen began his involvement in politics when then Gov. Reagan asked Allen to Chair Young Virginians for Reagan in his 1976 Presidential campaign).
Continuing his support for justice and opportunity for Native American tribes in Virginia, George Allen serves as Strategic Advisor to the Strategic Growth Advisors in support of SBA Tribal 8(a) HUB Zone enterprise business clients; including Tribal enterprises in Virginia, Oklahoma, Utah and Nevada.
Allen also serves on the Appalachian School of Law Board of Trustees and is a Virginia Commonwealth University School of Engineering Foundation Board of Trustees Emeritus. (As Governor, Allen was instrumental in creating both of these institutions of higher education).
Allen also serves on the National Advisory Council of the U.S. Global Leadership Coalition, Steering Committee of Friends of Jefferson Lab (National Accelerator Facility) in Newport News and is Honorary Virginia Co-Chairman of Communities in Schools with Sen. Mark Warner.
He served on the Advisory Board to AI/ML company Bird Analytics and NXT Energy Solutions (NSFDF: OTC and TSX), and was Ambassador for the Association of Passive Optical LAN fiber-based technology.
In 2009, Allen launched the American Energy Freedom Center, serving as Chairman until 2011, and rejoining as Chairman in March of 2013 until 2019. The Center, a 501(c)(3) charitable organization, educated Americans on positive solutions and ideas for more American jobs, competitiveness and prosperity through the development and use of America's plentiful energy resources and innovation.
As Governor, a U.S. Senator and a private citizen, Allen has led Trade Missions and continues to participate in international relations with Asian, European and Latin American countries.
In 2010, Allen authored his book What Washington Can Learn from the World of Sports.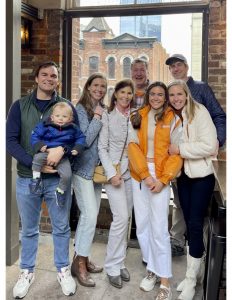 Since 2019, George and his wife Susan have been happily residing in Virginia Beach and are proud parents of three children: Tyler (married to Harry Poole with first grandson Wright Felix born January 2021), Forrest (married to Katie Roddey) and Brooke Victoria.